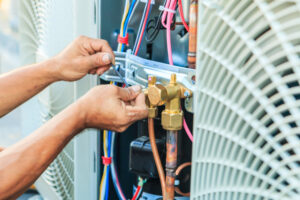 We Keep You Cool When You Need It Most
When you need AC Repair in Dallas, you want the best. That's Du-West Air Conditioning because if it cools or heats, we fix it. No matter who put it in, or how long ago. You call and we're on our way to get your system up and going again. Nothing is more miserable than not having a working AC in Dallas. Our team is here for you if you need emergency AC repairs or scheduled AC maintenance. We are a full-service HVAC business that offers speedy and reliable help. Whether you need a simple or complex repair, we have the experience and tools to handle it. No matter WHAT brand system you have:
Amana
American Standard
Bryant
Burnham
Carrier
Friedrich
Goodman
Janitrol
Lennox
Luxaire
Maytag
Rheem
Ruud
Tempstar
Trane
York
There's No Need To Sweat Dallas AC Repair Service—Anytime
Du-West Dallas has trained AC repair techs standing by 24-hours, every day. You don't schedule AC trouble. You just want relief. We get that. That's why we arrive when promised, get right to work diagnosing your system and getting it cooling again.
The Dallas AC Repair Process
When your unit is not functioning correctly or is not working, we first perform a full inspection. The technicians discuss what they find and their recommendations with you. Our technicians do not start on any AC repair project without your consent or informing you of what is wrong, the cost, and a repair time estimate. We understand that air conditioning is necessary here, which is why our Dallas AC repair team works efficiently. However, you can rest assured that they will not sacrifice quality by cutting corners. 
Common Dallas AC Repair Needs
Although there are many other potential issues, these are some of the most common types of repairs we handle in Dallas:
Dirty air filters

Frozen AC coils

Broken fans

Broken capacitor

Thermostat problems

Compressor issues
How Long Does AC Repair Take?
Several factors influence how long a repair takes. The unit model, its age, part availability, technician availability, and the project's complexity are a few key factors. We can often complete repairs in a day if parts and technicians are available. The easiest way to find out how long your repair will take is to give us a call. Once we inspect the unit, we can give you a more specific time estimate.
Call for Dallas AC Repair
Our technicians are available 24/7 to handle Dallas AC repair emergencies. We also work with your schedule for non-urgent repairs. Please call us for any AC repair needs. We value your satisfaction and stand behind our work. We also provide maintenance services and various other HVAC services in Dallas.
Should you repair your existing AC system or is it time to replace it?
If your current AC system is 15+ years old then the components have already began to degrade, and you are buying time till there will be a major component failure. While it is not necessary to replace the system due to age alone you should expect component failure is coming and budget ahead accordingly. Many homeowners with systems of this age choose to preemptively replace their AC systems so they are not left without AC during the heat of the summer.
If your current AC system is 10+ years old and a major component has failed it may be time to replace your AC system here too. If, for example, an outdoor unit (condenser) requires repairs that total half of the cost for a replacement of the complete outdoor unit then it begins to make sense to replace the unit. Repairing only the broken components will get you a 10-year parts warranty only on those replacement components. Replacing the whole unit will get you a 10-year parts warranty on everything.
If your current AC system is a builder's grade code minimum system, then odds are it is not very efficient, and your energy bill lets you know this every month. While the energy savings payback wouldn't make sense to replace a brand-new builder's grade AC system if your system is several years old and already starting to have maintenance issues then you may consider a new AC system to save on that energy bill.
Let's Get Your AC Repair Scheduled Now