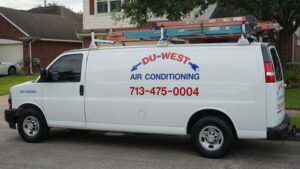 Furnace Maintenance Keep Systems Running Longer
Du-West furnace maintenance goes more profound than most to provide a thorough safety check and inspection. Our furnace maintenance technicians inspect your heat exchanger for dangerous carbon monoxide leaks, clean the blower motor, and check limit switches — all the way it's supposed to be done. We also oil, recalibrate, and safety check every moving part and electrical component on your system, restoring it to factory-fresh specifications. So your furnace runs more efficiently, saves money, and lasts longer. Learn about common signs your furnace needs maintenance.
What's involved in a furnace maintenance appointment?
Check heat exchanger and burners
Inspect the heat exchanger for cracks
Adjust blower components
Adjust air flow for proper temperature
Check and test safety controls
Adjust gas pressure
Monitor flue draft
Check and adjust pilot operation
Check and tighten all loose electrical connections
Monitor voltage and amperage draw on all motors
Getting annual Furnace Maintenance in Houston Saves Money and Lives
How does seasonal furnace maintenance save you money? Our furnace maintenance techs hunt for small problems that can be fixed quickly before they become expensive furnace repairs. Say we found a microscopic leak in your heat exchanger. We can replace it, preventing continued release of deadly carbon monoxide into your home—not only saving you from increased energy bills while potentially saving lives as well. Learn about preventing furnace hazards in your home or office.
We Promise To Keep You Warm All Winter
A Du-West Check-up is so good, we back it for the whole season. If your heating system doesn't continue warming all Winter, we'll come back for free. That's because doing it right is the only way we do it at Du-West Houston.
Why Choose Du-West Services for Furnace Maintenance in Houston, TX
In the dynamic and ever-growing city of Houston, the importance of having a reliable and efficient heating system cannot be overstated. With winter's chill occasionally sweeping through the region, ensuring that your furnace operates seamlessly becomes a top priority. Du-West Services has emerged as a trusted name in furnace maintenance in Houston, setting high standards in service quality, professionalism, and customer satisfaction. Here are some compelling reasons why Houston homeowners should make Du-West Services their first choice for furnace maintenance:
Expertise and Experience: With years of hands-on experience, Du-West Services boasts a team of certified technicians who have tackled a diverse range of furnace issues. Their comprehensive knowledge ensures that your furnace is in the best hands.
State-of-the-Art Equipment: Du-West Services believes in utilizing cutting-edge diagnostic tools and equipment. This commitment to technology allows them to identify potential issues and address them proactively and accurately.
Customized Maintenance Plans: Recognizing that every home is unique, Du-West Services offers tailored furnace maintenance plans. This ensures homeowners get the best value and their furnaces receive the specific care they need.
Transparent Pricing: With no hidden fees or surprise charges, Du-West Services offers transparent pricing, providing homeowners with clear and upfront costs related to their furnace maintenance needs.
Prompt Service: Understanding the urgency of furnace issues, especially during colder months, Du-West Services prioritizes promptness. Their team is always ready to address your furnace concerns promptly.
Safety First Approach: The team at Du-West Services places a high emphasis on safety. By choosing them, homeowners are assured that all maintenance tasks will be performed with utmost care, keeping safety regulations in mind.
Customer-Centric Approach: At the heart of Du-West Services is a commitment to customer satisfaction. Their team goes the extra mile to ensure that homeowners are kept in the loop and are satisfied with the services rendered.
Local Knowledge: Being well-acquainted with Houston's climate and its specific demands on heating systems, Du-West Services brings valuable local insights to furnace maintenance, ensuring that your furnace is prepared for Houston's unique weather challenges.
For those searching for top-rated furnace maintenance in Houston, Du-West Services is an unbeatable choice. Their blend of expertise, dedication to customer satisfaction, and commitment to safety make them stand out in the realm of furnace care in the region.
Let's Get Your Check-Up Scheduled Now